The most effective way users would recommend is using the direct installation link. You can send it as spam or just ask target cell phone user to launch it. The way you make it happen depends only on your luck and skills. But it is possible, just use your imagination.
Google Track Your Apple iPhone 7 Plus.
Spy on Cell Phone without Installing Software on Target Phone.
How To Spy on a Cell Phone Without Possession.
Is There Another Easy Way to Spy on My Cell Using Gps.
Precautions Before Installing Spy App on cell phone:.
Spying App that lets you Track other Android phone.
We would recommend trying Android Device Manager as your most obvious Android tracking software. If you need to track your cell phone easily, just use this software via your Google Account. The entire process of tracking a cell phone with Android Device Monitor is extremely simple. Just start the application on your cell phone.
Spy on a Cell Phone Without Having Access to the Phone? | Cell Phone Spy
It will be working in the background, but in time of need, the software will be able to locate your device, launch an alarm signal, and even block the device. This can also be useful if you are tracking your kids. To find your target, you can use any other device with that application installed.
Easy Way to remove Cell Phone Spy Application.
.
Error (Forbidden).
Can You Spy on a Cell Phone Without Having Access to the Phone?.
This makes it the best way to track a cell phone location without installing software for free. First of all, iPhone users and those people who want to spy on any Apple product are lucky. Monitoring phone apps are getting more and more powerful with every new day. Remote installation was just a question of time. If your target is using iPhone or iPad, but you do not have access to that device, you still can spy on the phone, monitor SMS messages, incoming and outgoing calls recording, conversation and even GPS location. And here is how you can spy iPhone fast and easy without installing software on target device:.
Please, note that all features available with the actual installation of the monitoring program will be still active in the case using this method. As we already said before, there are three main apps to track a cell phone remotely without installation. This would be one of the best suggestions of how you can track an iPhone via any other operating system cell phone or tablet. Just install one of these applications on the target device and register your private account on its official website.
To monitor the smartphone just go to the control panel in the account. All the info about the target device will be there. All of you who want to download free spyware without touching target phone, there are also few other ways to achieve your goals except spy apps. And if you try to monitor and track an iPhone, then software called Find My iPhone is the most obvious solution.
If your device is lost or stolen, Find My iPhone is more than useful, and you need to launch it as soon as possible. Apple developed this application to help their customers to deal with all those lost and find issues. And here are few main things it can offer:. If a person uses Android device, there is also a great way to track its location without even installing anything too fancy.
The entire process is simple and does not require any high technical skills to succeed. The application is free and can be easily used on a Samsung Galaxy model. The program is already preinstalled on every smartphone of that model.
Can I install cell phone spy software remotely?
Find My Mobile works with a special Samsung account, and if you find out those account data from your target, it is easy to spy on it. Here is what Find My Mobile offers:.
FREE Monitoring App On Any Mobile 100% Working With Proof EASY TO USE
Any spy app is a program that tracks, records, logs, and monitors the cell device it is installed or directed on. It can capture various types of data and indexes and send it to the personal account of its owner. In that account, there is a control panel to check logged info and control the entire spying process remotely from any part of the globe. Those spy apps offer more than just blocking or locating features those Apple and Android standard programs are limited to:.
The list of potential users of spy apps is long and diverse. There are parents who want to protect and control their kids via mobile devices. Also, spy apps are widely used by employers and managers who try to control employees via corporate devices. Only ignorant people own and use cellphones, but even TVs are watching and listening their users. Spy on Phone, like a Ninja Choose one from 10 best phone spying app! They can use the mobile phone monitoring software without the consent of their kids and teens.
Top 6 Cell Phone Spy Apps in 2018
Parents own the smartphones of their children and the age factor of the kids and teens allow parents breach their privacy for their safety. Although people also use it for building the healthy relationship with the spouse and to remove the suspicions that often comes in the minds of the spouses. So, they can use smartphone tracking software to make a relationship better and trustworthy.
However, many of the couples use it for catching cheating spouses as well. Most of the people have their view that you can do Google about anything and it would be ultimate. But in reality, most of the business organizations use false statements in order to get the attention of their target audience.
Spy on Cell Phone Without Installing Software on Target Phone
So, there is no such thing exist on the commercial level that a spy software for cell phone is possible to install remotely. You cannot install the cell phone tracking app without having the physical access to the target device. Obviously, you have to find out a way to get physical access to your target smartphone for the installation.
Our job is to provide you a service to track all the activities happen on the smartphone of a person you want to get access to.
Spy on Cell Phone with mSpy
Your job is to find out the way to get the physical access and a little time to do the installation process. Forget all the fatigue and headache, you can use TOS worry-free installation service. You can get highly professional experts that can provide you a service of software installation remotely on the phone.
Here is a complete guide on how to install TheOneSpy android app. When you are trying to find a way to get access physically on your target phone, always remember to know about the compatibility of your target device when you are going to subscribe for the particular cell phone monitoring software. The thing seems worse when people search this kind of thing alongside without paying a single penny.
It seems funny and interesting, but the reality is the cell phone surveillance spyware are very expensive ones and they are just for making money rather than providing perfect services. Therefore, choose TheOneSpy , and save your time and the money. It is the leading cell phone tracking software that all the abilities that you want and we have mentioned earlier.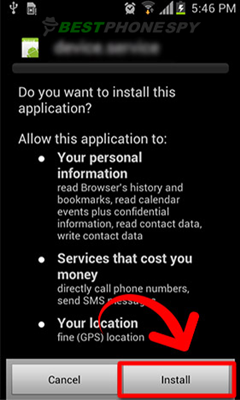 You have to pay money but far less than its competitors. But at the end of the day, you will have the best spying software in order to perform parenting, employee monitoring and to build a healthy relationship with your partner or spouse. Just visit the official website of TOS and subscribe to it and you will have the credentials. Once you have done with the installation, you will have an option to use it on the secret basis. Activate it on your target phone and get access into the online web portal of the mobile tracking app.
After getting access to the online control panel, you can monitor your target mobile phone with the dozens of TOS features. No one can install the cell phone spying app remotely on the target smartphone. All you need to do is to install TheOneSpy phone monitoring app on the target phone having physical access once and start tracking remotely. Can I install cell phone spy software remotely? Find out lost or stolen phone Anyone can install it on their personal phone in case the phone has lost or stolen, they can track the location of the phone or remove the private data stored in the device.